Aki Onda
Cassette Memories
Birdcage sound gallery
Cour Carrée du Louvre
May 14. 8PM – 10PM.
Nuit des Musées (Museum Night).
Curated by : Daniele Balit
Visitors can come and leave anytime as they wish. The admission is free.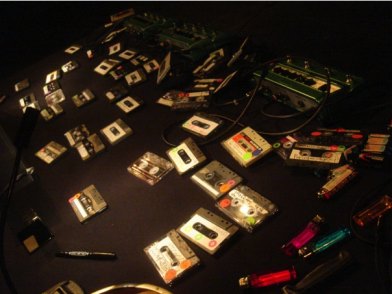 Aki Onda
is an electronic musician, composer, and visual artist. Onda was born in Japan and currently resides in New York. He is particularly known for his Cassette Memories project – works compiled from a "sound diary" of field-recordings collected by Onda over a span of two decades. Onda's musical instrument of choice is the cassette Walkman. Not only does he capture field recordings with the Walkman, he also physically manipulates multiple Walkmans with electronics in his performances.
Cassette Memories
is a music performance, or a ritual, that Onda conjures up the general essence of memory by playing his field recordings, so to speak his personal memories, at a location which has its own memories. It's invisible, but you would feel that live memories awake sleeping memories.
Birdcage
is a sonic gallery initiated by Daniele Balit as an itinerant and temporary display to host artistic initiatives. Previous appearances include : Stockholm with Carl Michael von Hausswolff, Amsterdam with dj sniff, and Beijing with Yan Jun.
For more information and press inquiries, please contact: birdcagespace@gmail.com
Birdcage gracefully acknowledges support for the production of this project from the Dena Foundation for Contemporary Art.
And the kind collaboration of the Louvre Museum.
A special thanks goes to the Louvre Contemporary Art Program, chief curator Marie-Laure Bernadac and Pauline Guelaud.
And to : Eric Cordier, Licia Demuro, Silvia Ferro, Satoko Fujimoto, Mathias Geoffroy, Daniel Hosner, Hannah Huesberg, Marie Lelouche, Anthony Morabito. Eric Perier, Vincent Voillat.
Urls :
akionda.net
denafoundation.com
Nuit des Musées